Our Vision is to Heal Mind, Soil and Body. Health is an Indicator of Human behavior towards their Environment & restoration of the self-healing system of the cells. To fulfill our Mission we take complete (पूर्ण-पू) responsibility (जिम्मेदारी -जा)= पूजा, for the भूमि Soil, गगन Space, वायु Air, अग्नि Fire and नीर Water (भगवान) to achieve complete (पूर्ण-पू) justice (न्याय -न् ) with unbiased (निष्पक्ष) strategy (योजना-य) पून्नीय to achieve virtue & Profit (शुभ-लाभ); Because, incomplete (अपूर्ण) responsibility (जिम्मेदारी)=अपूजा, leads to half done work, which is called "Hypocrisy" पाखंड। And hypocrisy always accompanies with Injustice (अन्याय -अ) & biases (पक्षपात-प)=पाप। Injustice and biases will always propagate "Use & Throw" behavior. To stop this "Use & Throw" behavior, we have changed the design of human habitats which will ensure Zero waste & Zero Diseases for all who live in this design. 
I am called
to heal the Mind, the Soil & Body
Dr. Susan Raj
-BSc Nurse, MSW (M&P) Doctorate-Humanities, certified practitioner-Mineral Therapy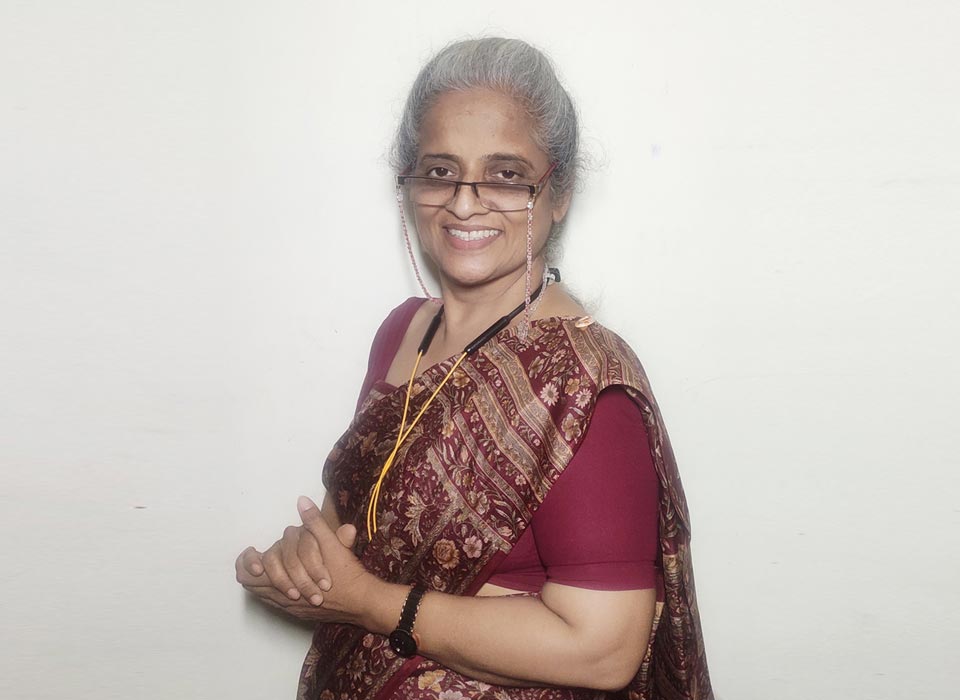 Our founder Dr. Susan Raj is a behaviour specialist, who is passionate about changing the "Use & Throw" behaviour of humans. She has created concepts to change the current polluting designs of human habitats. Her mission is to, create environmentally and economically sustainable habitats that can change the disastrous city designs.
I am called to
heal the mind, the soil and the body.
We, humans, have designed everything around us for convenience and security. Whereas, it should have been for, conveniences and sustainability. This gross mistake in all human designs has continued to encourage the 'use & throw behaviour'. With the new inventions of non-biodegradable material, this behaviour of use & throw has caused the contamination of our rivers, oceans, air and soil. To add to it, the designs of our dwellings with drainages connecting to the natural canals, have lost their identity. Every city has dead rivers, and oceans have plastic islands. Materials have its own character, and it will behave the way it is supposed to. Instead of changing the use and throw behaviour, humans have decided to stop the use of plastic which is an absolutely foolish decision. To correct this foolishness, all like-minded people have come together to bring a solution
Our body is Designed to Die with Aging & Accidents Only – Diseases are to Keep Immune Cells Active
Diseases are the indicators of use & throw behavior of human beings. Use and throw behavior is the product of hypocrisy pack (Hypocrisy + Injustice + Biases) Hypocrisy is the product of balancing between Good and Bad. Balancing the one of the most important action in the entire universe, in which Rules are created to be Regulated to maintain Balance. The God of the universe has very clearly ordered "Never to balance between the good & Bad ." In Genesis God commanded to the first man & the woman "You can enjoy eating everything in the creation, but never eat the fruit of the knowledge of the GOOD & BAD" The reason was told very clearly that" You will die" Good and Bad has to be kept poles apart…. Only one thing which should not be tried to balance….
Dr. Susan Raj
BSc Nurse, MSW (M&P),
Doctorate-Humanities,
Certified practitioner - Mineral Therapy
Awareness & Policy influencing programs: LiSOP, Sagarmitra, GIVE, SEALS

Health care: Wellness Warriors for Disease Freedom: Training those who have healed themselves and now want to heal others are trained to make Stabilized Oxygen Detox (SOD) at home and help others. Provide paid consultation on phone and free WhatsApp guidance

Soil Care:
a. Resource Recovery Management team has world class technology and system providers for those who want to change Designs of existing Buildings.

b. EARTH Unit – New Township and housing society with Sustainable designs. Architects and Builders can hire our services, to provide design and maintenance of the resource recovery management of the townships
Sagarmitra (Friends of Ocean)  –

A project to promote behavior of taking responsibility for every right we have in the environment. School children take responsibility of ocean by stopping use & throw behavior. Currently working with 2 Lakh school students, 65 housing societies and few villages . Sagarmitra as a project has received • 2015 Ocean Heroes international award • World Water Council Membership • Is in the Guinness Book of records for participation in making the Biggest T shirt of the world by plastic recycling with Plast India Foundation on 5 January 2018.

Wake up Pune –

Awareness campaign for HIV/AIDS With DISHA won UN award for best HIV/AIDS awareness program. 1993 The Saheli Project – HIV/AIDS intervention for Women in commercial sex work achieved status of model project by WHO.