Sagarmitra Concept for Schools
"A call to 1.5 Billion Children of our precious planet Earth"
Sagarmitra is a specially designed project which can be integrated with environment subject and projects, of all schools. It's an action oriented program for schools, which  connects HEAD with knowledge (why, when, who, how, where, whom etc,) about the  damage created to our environment, because of the human habit of making waste out  of our resources and throwing it.  
Then it connects our HEART with the environment creating the feeling of belonging to  this planet and so, moves our HANDS to take actions which will preserve our  environment for all the generations to come.  
This action oriented program for the children, is run by the children to protect our  oceans from 'use and throw' habit of humans.
A person connected with HEAD, HEART and HAND, develops ability to learn new  things. They are connected with their Rights and Responsibilities. If we have the right to enjoy clean air, water, safe food, plenty of energy in sufficient space then we also  have the responsibility to keep all elements in our space clean. 
Urban spaces may have a problem of anonymity where a neighbour may not know  each other but every child from every home go to a school. India will become clean  when every child from every home is connected with Head Heart and Hands. And it is  possible within the framework of a school structure, where a new habit is imprinted into  the subconscious of every person who works and study's here.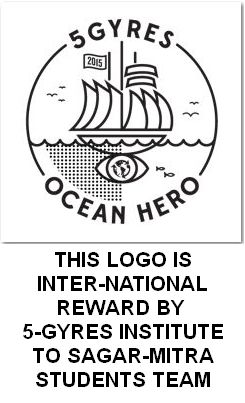 Your school will participate in Swachch Bharat Abhiyan (SBM) by becoming a  Sagarmitra School. This program can begin in your school, by inviting our team to  conduct an orientation program for all the children from 5th to 12th standard. There after, action begins where every child will:- 
Collect every bit of plastic items entering their homes or their living space.  2. The plastic items will be cleaned and dried. 

Then once a month all will bring it to the school where the Kabadiman will  purchase it from them.  
To keep the motivation up this program is connected with 3M, i.e. Marks, Money and  Mitigation of environment.  
Our brain learns only with consequences. Marks for environment project will be used as  reward and withdrawal of rewards. All classes must get their rewards. Failure to give  rewards and withdrawal of rewards, will show that children forget to save plastic and  bring it to school. Marking system is as followed:  
Every child in a class must bring plastic collected for 30 days, at their own home.  When all children in a class bring it then, in that class every child will get 7 out of  10 marks for environment project work. If even one child fails to get then all get  0/10. 

When a class brings, on an average one Kg each child, then in that class each  child will get 8/10. If even one child fails to get then all get 0/10. 

When a class brings 2kgs on an average, then 9/10. If even one child fails to get  then all get 0/10. 

When a class brings above 2kgs an average then 10/10. If even one child fails to get then all get 0/10.
Money: Will be given to each class as per their division. The class and their teacher  will decide how they want to use it for encouraging every child.  
Kota Municipal Corporation has announced that certificates will be issued to every child  for participation and special awards will be given to the best participating schools and  the individual students or a class on the basis of highest quantity collected. There will  be various competitions to promote rights and responsibilities towards our environment.  
Mitigation of Environment: It has been calculated that 5kg plastic saved will save  1kmsq of ocean and the farming land. Every school participating in Sagarmitra will  own 1kmsq of Ocean on the map.  
You can help the Sagarmitra Team to reach to all schools with a donation of Rs 2,000/- only for an orientation program. Every kilo of plastic collected will fetch Rs.5/kg to your  school. A family of five members can collect 3kg plastic maximum in a month. If an  average of 1kg plastic is fetched and 500 students on an average participate, then Rs.  2,500/month will be collected. In an academic year 10 months can be collection day.  Thus total Rs. 25,000/- will be collected.  
Money donated by you will be used to compensate a volunteer's travel expense for  coordinating your school with other schools and the kabadiwala who will buy all plastics  from you.  
I am sure that your school would love to be part of this cleaning drive of the city.  Because a city can be smart, only when it's citizens stop 'Use and Throw' habit and  thus stop making waste out of their wealth. 
Let's have a clean and smart city and together we can do it…